Before we start, it's impossible to proceed without giving thanks to the late and great Martin Luther King Jr. Dr King said that "we must forever conduct our struggle on the high plane of dignity and discipline." He was talking about non-violent protest, but the sentence is oh so relevant today. I don't mean to reference physical violence (while there is, of course, plenty of that), but instead, the verbal, emotional, and spiritual violence happening on a daily basis in this country. Intelligent discourse and dialogue are falling by the wayside in favor of identity politics and pejorative verbosity.
Let's observe a moment of silence together, or perhaps a few moments, to really think about what Dr. King would do today and how he might approach the situation we find ourselves in…
Business & Money
I recently read an essay about achromatopsia (color blindness that results from a brain injury or lesion). The condition was first happened upon by a neurologist around 1888. But scientific thought of the time considered vision to be one continuous and seamless thing. Color, depth, movement, contrast, all were supposedly just parts of one "seeing." So the research paper published about this new condition were basically disregarded and ignored for 75 years until the anatomy of the visual cortex was revealed in greater detail.
For whatever reason, this essay got me thinking about investing. If you make an investment, being early is basically the same thing as being wrong. In order to make money, you not only need to be right, but you need to be right at the right time. If your right at the wrong time, you either lose money, or wait around long enough to become right. And that waiting can be really hard and painful.
I don't think most people have the stomach for it.
I'm feeling that right now with Ctrip.com (CTRP). I bought it back in July and it's now down 20%. But the thing is, I'm still just as confident that I'm right. 20% is often stop-loss territory for me, but I plan to hold it. Perhaps I will be sorry later.
When you're dealing with a loser, you really have 3 options.
You can sell some/all of the position.
Do nothing.
Or buy more, if you really have a ton of conviction that you're right.
I choose option 2. For now…
Human Progress
A few weeks ago I celebrated New Years Eve with a bunch of friends. It was great. Leading up to that evening, my best friend was recovering from a long bout with the flu. Selfishly, I hoped that he was feeling well enough to make an appearance, at least for a little bit (in hindsight, probably a terrible idea during an intense flu season). In the end, he came out for a bit and made the night better than it would have otherwise been.
The thing that I wanted to point out though, is that when he showed up, he was visibly under the weather. It's tough to pinpoint exactly what it was, but you could tell he wasn't himself. The first thing I might point to was that he seemed to be moving at perhaps 60% of his normal speed. Almost like a movie in slow motion. Secondly, his complexion seemed a bit off. Can't quite remember if it was more pale or flush than normal, but noticeable none the less. Lastly, I'd say there was less expression/emotion in his interactions. None of these things were a surprise given what he'd told me via phone/text over the preceding few days, but I simply thought they were interesting.
I spent the next few days thinking about how that information might be used in interesting ways. Of course, Google beat me to it. After a bit of digging, turns out that just submitted a patent application last week about using "optical sensors [machine vision] to sense hemodynamics [forces and dynamics of blood flow], such as skin color and skin and other organ displacement [I understand that as inflammation]." In other words, they are hoping to use physical appearance to look for signs of cardiovascular conditions.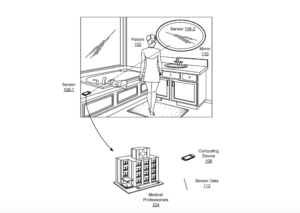 Another recent paper I read suggests there are also other signs such as "paler lips and skin, a more swollen face, droopier corners of the mouth, more hanging eyelids, redder eyes, and less glossy and patchy skin, as well as appearing more tired."
And given that the iPhone X + Face ID will soon bring regular facial scanning to scale, it's not difficult to imagine a day when you wake up in the morning, glance over at your phone to turn off the alarm, and suddenly get a notification that you may want to head to the doctor or load up on certain vitamins/nutrients.
Philosophy
I was sitting at work one day this week when a colleague asked if I had heard of the "squatty potty."
"The squatty what," I replied. Apparently one of these things is now in our bathroom at work.
My first reaction was to laugh at the utter hilarity and ridiculousness of anything called a squatty potty. I don't have any problems going number 2, and that likely applies to most people (assumption based on no data), so why would that even be a thing.
But as I thought about it more, I realized something important. Animals, including humans, basically think by intuiting things from their environment and the affordances it presents. And new affordances only really show up by luck or chance. For example, for ancient people living near the ocean, the water was basically a barrier that was impossible to cross. You wouldn't simply think I could build a boat to cross to the other side, because you have no conception of a "boat" or "another side." Then maybe one day someone saw a log floating in the water and realized that pieces of dead trees can float. Or perhaps they fell in the water one day and were lucky enough to grab on to a piece of wood floating by. Then over time you got rafts, then canoes, then sailboats, then motor boats, then submarines, cruise ships, and the like.
So given I've never seen or heard of anything similar to a squatty potty, there's no reason to conceive of its affordances. But it turns out there's a sort of natural kink in your colon which keeps things backed up while your standing and sitting, and squatting naturally opens things up for evacuation. I'll need to poke into the science behind this before coming to any conclusions, but seems logical.
This concept of considering and exploring new ideas is so SO important. I'll lean on Mr. Oliver Sacks as his words are far more eloquent than mine: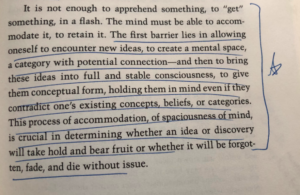 My Latest Discovery
Amazon has oh so quietly snuck computer vision and augmented really into their consumer app without anyone realizing. If you open the Amazon app, click the camera, then click "AR view" you can test new pieces of furniture or decorations in your apartment before buying them. Check out this three-headed lamp!